Relations presse immobilier
Contact médias : Carol Galivel - 01 41 05 02 02
SFL sells In/Out to Primonial REIM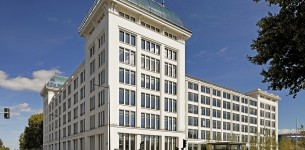 On 29 September 2017, SFL completed the sale to Primonial REIM of the In/Out building, located at 46 Quai Alphonse le Gallo in the western Paris suburb of Boulogne Billancourt
On 29 September 2017, SFL completed the sale to Primonial REIM of the In/Out building, located at 46 Quai Alphonse le Gallo in the western Paris suburb of Boulogne‑Billancourt.
Acquired in 2000 by SFL as part of a sale and leaseback transaction, the 35,000 sq.m property was extensively remodelled between 2011 and 2013 after Thomson left the premises. In partnership with architecture firm DTACC and design agency Jouin-Manku, SFL transformed the industrial site into a unique office complex offering an outstanding working environment in western Paris, complete with a dedicated services pavilion featuring a conference centre and a foodservice area.
The building is currently let in full to the Organisation for Economic Co-operation and Development (OECD) under a lease expiring in 2027.
The net sale price of €445 million represents a yield of 3.7% (including transfer costs).
"This transaction marks the culmination of the work we have undertaken since 2011 to create value, and it confirms our ability to develop unique, standard-setting products."
SFL was advised in the transaction by JLL and notary office Oudot, and Primonial REIM was advised by notary office Wargny Katz & Associés and law firm LPA-CGR.