Contact médias : Carol Galivel - 01 41 05 02 02
GSE ITALIA STARTS THE WORKS TO EXPAND TRANSMEC GROUP'S LOGISTICS HUB WITH DEA CAPITAL REAL ESTATE SGR S.P.A.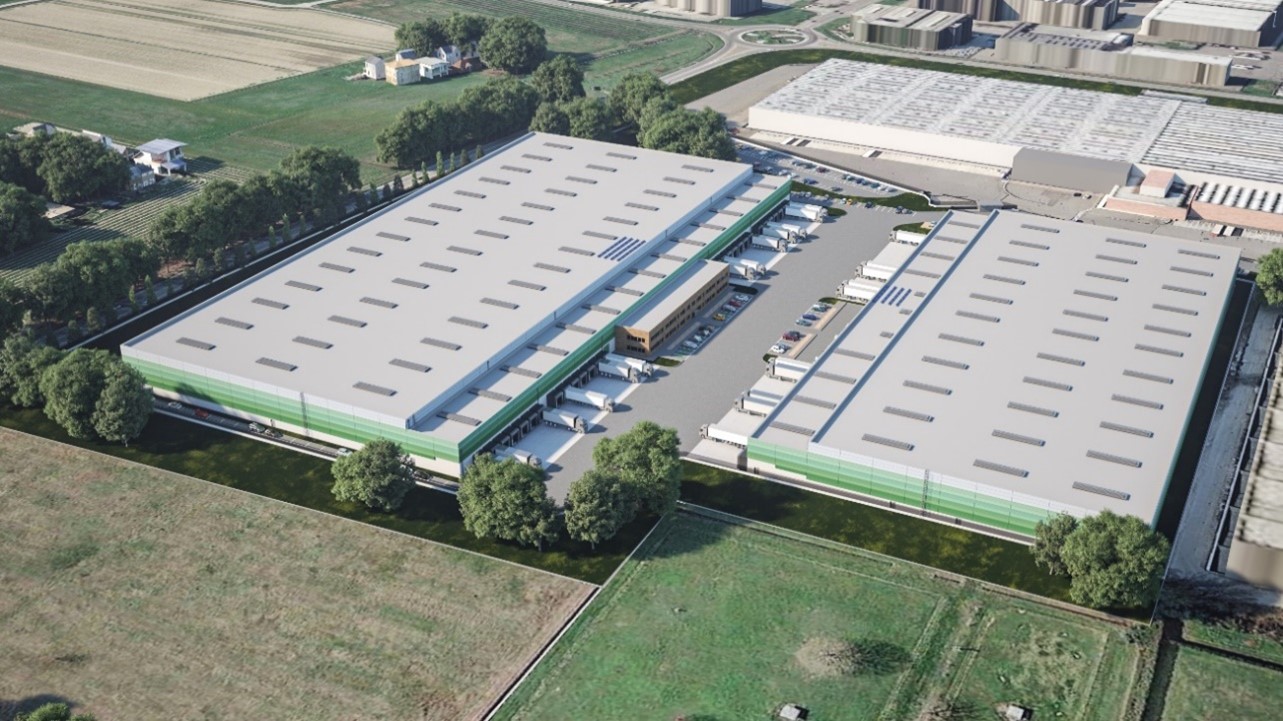 GSE Italia, the Italian branch of the French group GSE, has been appointed by Dea Capital Real Estate SGR S.p.A., as manager of the Fund GO Italia VI, a real estate investment fund fully invested by BentallGreenOak, of the construction of two logistics buildings for a total area of approximately 49,000 sqm in Campogalliano, near Modena. The buildings will expand the current headquarters of Transmec Group, a leading logistics operator and future tenant.
Two new logistics warehouses for an extension of 49,000 sqm


The new logistics area, with a total built surface of ​​49,556 sqm, is located in Campogalliano (Modena), in via Strasburgo.  GSE was awarded the works by signing the contract with Dea Capital Real Estate SGR S.p.A., a leading company in the Asset Management sector in Italy, specialized in real estate investment funds and a privileged partner for Italian and international institutional investors, as manager of the Fund Go Italia VI, fully invested by BentallGreenOak, a global investment company active in the real estate market. The tenant will be Transmec Group, a historic transport, shipping, and logistics company with more than 1,000 employees and over 40 offices worldwide, with a direct presence in 14 countries.
The two warehouses, with a surface of ​​19,649 m² and 29,479 m², will be integrated by 504 sqm and 1,419 sqm of office space respectively, and will have 54 loading bays and 735 parking spaces. Inside, the storage height will be 12 meters and the industrial floor will have a load-bearing capacity of 5 tons/sqm. As regards the building envelope, it will be composed of a Bac-Acier type semi-flat roofing and a body of mixed facades with precast concrete panels and sandwich panels.


In addition, the project was born with a strong sustainability footprint: the entire structure will be equipped with energy-saving LED technology and aims to be LEED Gold certified. Finally, the creation of new green areas and the installation of 29 e-charging stations for electric vehicles is also planned.


Works began in April 2021 and the handover is scheduled for February 2022. The investment also includes the realization of a series of urban planning works such as the creation of a public car park of 246-spaces, including 50 e-charging stations for electric vehicles, and of a refreshment room for drivers.
An optimal location along the Brenner motorway


The two buildings are located in Campogalliano, about 50 km from Bologna. A strategic location along the A22, the nerve center of the Italian motorway network, which connects northern Italy and the A1 motorway with northern Europe.


"We are very grateful to Transmec for choosing us for this new development and proud of this second project with Dea ​​Capital for the BentallGreenOak fund. The enhancement of the area will be significant, thanks to a particular attention to urban planning works and green areas, as well as a chromatic characterization of the buildings that will be designed to harmonize with the adjacent rural context from an aesthetic point of view."
Valentino Chiarparin
Country Manager
GSE Italia