Foncière des Régions and Crédit Agricole Assurances deliver the New Vélizy campus to Thales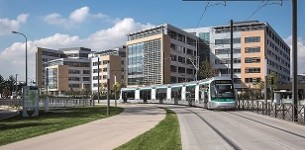 Paris, 7 November 2014 - Foncière des Régions and Crédit Agricole Assurances, co-investors and developers of the project, have announced the delivery of the New Vélizy campus to Thales. It has a new office complex located in the heart of the Vélizy-Meudon business district.
New Vélizy, an outstanding development
Between city and nature, New Vélizy offers its occupants a working environment on a human scale. The three office buildings on GF+5 and GF+7, arranged around a two-level internal road, make up a complex of over 46,000 m², surrounded by 10,000 m² of landscaped areas. The architectural design of the campus, by Quadri Fiore Architecture, and the interior design concept, developed by Saguez & Workstyle, make New Vélizy a campus designed with the comfort of its occupants in mind.
The 2,500 Thales employees will benefit from a wide range of services distributed over more than 10,000 m²: a range of dining options (restaurant, brasserie and cafeteria), reception area, auditorium (400 seats), sports hall, concierge's lodge, etc. An underground car park with over 1,500 spaces, computer rooms, archives and storage rooms complete the campus' impressive facilities.
From the design phase, New Vélizy has met the requirements for new office buildings, both in terms of user comfort and technical and energy performance. The architectural design of the complex has made it possible for vast green spaces to be included, highlighting the presence of landscaped areas within the campus. This balance between buildings and vegetation means that each occupant can enjoy a large amount of natural light and an attractive view from their work station. 
New Vélizy is also one of the first projects to be HQE certified under the 2011 and RT 2012 references, and has a BREEAM Very Good rating. New Vélizy is also one of the 17 pilot projects involved in updating the HQE Performance standard[1].
Vélizy-Meudon, a reference site
Located 15 minutes from Paris, the Vélizy-Meudon site is the 2nd largest business hub in Ile-de-France, and is a base for 45,000 employees and 1,000 leading national and international companies in high-growth sectors: aeronautics, new ICTs, electromechanics, high-tech, etc. The site also has excellent transport links, with the arrival of the T6 tram line at the end of 2014.
Combining economic dynamism, services, public facilities and green spaces, it offers a pleasant living and working environment of exceptional quality, with the Vélizy 2 regional shopping centre and its 170 brands, as well as the national Meudon forest.
Thales has been involved with the site for some time, and has chosen to stay on at the New Vélizy campus, which the company will occupy under a nine-year lease.
"The New Vélizy project shows the relevance and success of the Foncière des Régions' partnership strategy. This campus, which has good links to the city and is open to its environment, bears testimony to the strength of the relationship between Foncière des Régions, Thales and the town of Vélizy-Villacoublay. With a focus on user comfort, New Vélizy is also a reflection of the Foncière des Régions office real estate approach, which is focused on performance and well-being" Christophe Kullmann, General Manager of Foncière des Régions.
"We want to encourage the development of sites which are attractive both to us as investors, and to the companies which use them. The New Vélizy campus is a new example of our partnership with Foncière des Régions which shares this view and with which we can implement this investment strategy" Jérôme Grivet, General Manager of Crédit Agricole Assurances.
You can find the book site on line if you click on the link below :
http://fr.slideshare.net/CreditAgricoleAssurances/portfolio-campus-new-vlizy
You can also find a video showing the site via the link below :
http://vimeo.com/111107982
---
[1] This certification is intended as an environmental performance indicator with a holistic approach including a building LCA (Life Cycle Analysis) as well as a study on the quality of the air inside the building at the time of delivery.